Everything You Need to Know About the NWBB Freedom Gala
The Northwest Battle Buddies Freedom Gala is on the horizon for May 13, 2023, and our supporters and volunteers are getting ready to bring you an unforgettable evening of celebration and inspiration with the goal of maximizing our support for Veterans battling PTSD. Here's everything you need to know about how we honor and support our Veterans through this important annual event.
What is the Northwest Battle Buddies Freedom Gala?
The Northwest Battle Buddies Freedom Gala is our biggest fundraiser of the year, and proceeds from the event are critical to continuing and expanding our mission to provide professionally trained service dogs to veterans battling PTSD. The evening will feature speakers, a special dinner, live and silent auction, a puppy brigade, and, most importantly, an opportunity to hear firsthand the difference that Northwest Battle Buddies makes in the lives of our American Heroes. This year's event will also include a special appearance from the Oregon City High School ROTC Color Guard.
When and where is the Gala?
The Freedom Gala will be held Saturday, May 13, at the ilani Casino Resort in Ridgefield, Washington.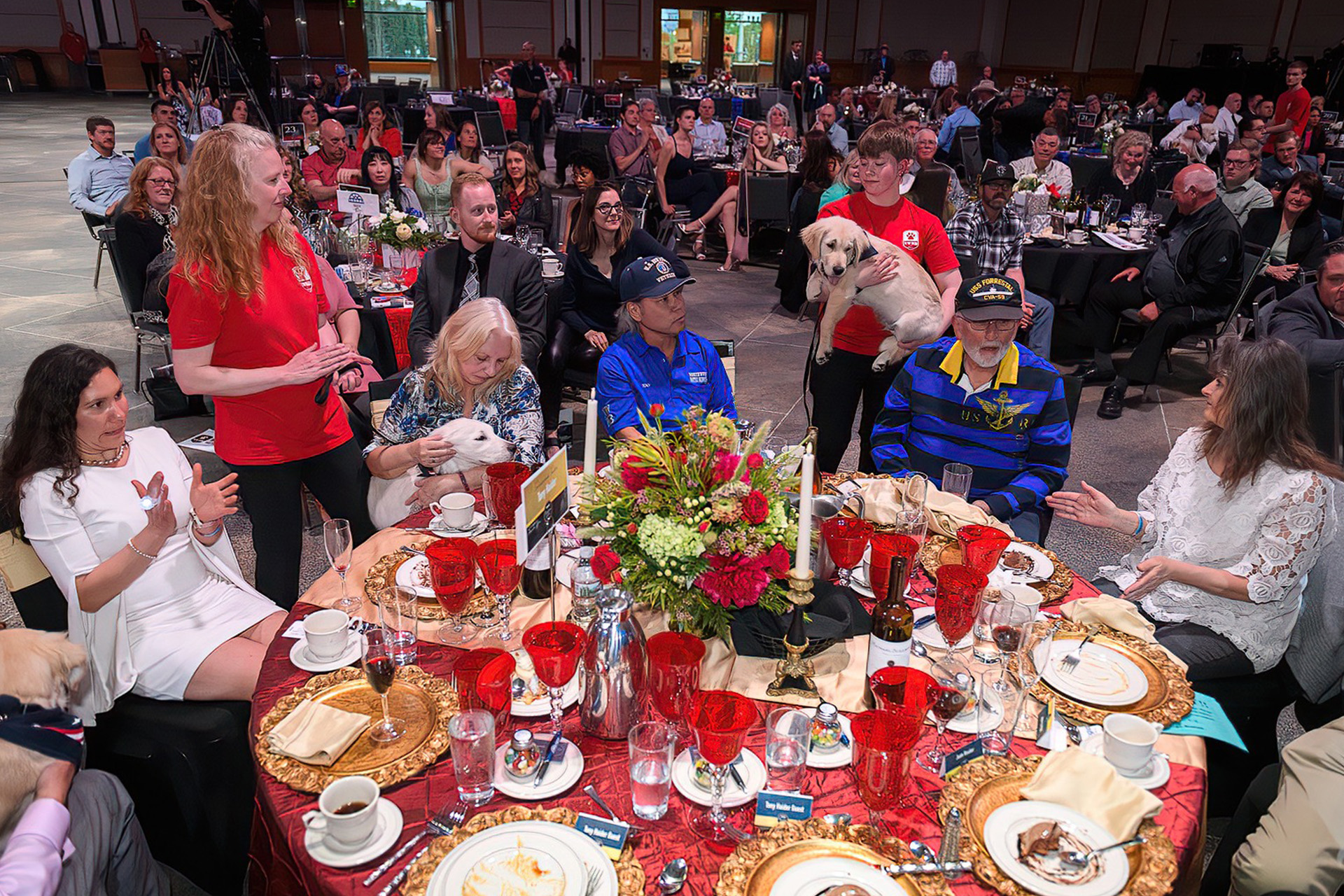 What's the Northwest Battle Buddies Freedom Gala really like?
Simply put, this evening is electric⸺if our mission touches your heart, you don't want to miss it. As a supporter of Northwest Battle Buddies, you will experience an amazing patriotic evening that is second to none. The emotion and gratitude of our over 60 veteran service dog teams attending is ever present, and will help make it an unforgettable night.
How can I contribute to the auction?
Any auction items will be gratefully accepted, but some of our most popular items in the past have included dining or spa experiences, gift baskets, and patriotic or outdoor items. If you wish to donate to our live or silent auditions, please go to northwestbattlebuddies.org to fill out a simple form detailing your gift. Deadline is April 26th.
What's the agenda?
Auction registration and opening reception begin at 4:30 p.m. Opening ceremonies begin at 6 p.m. A fabulous dinner, silent and live auction, followed by inspirational speakers and PUPPIES! Lots of puppies add an adorable hi-light to an emotional topic.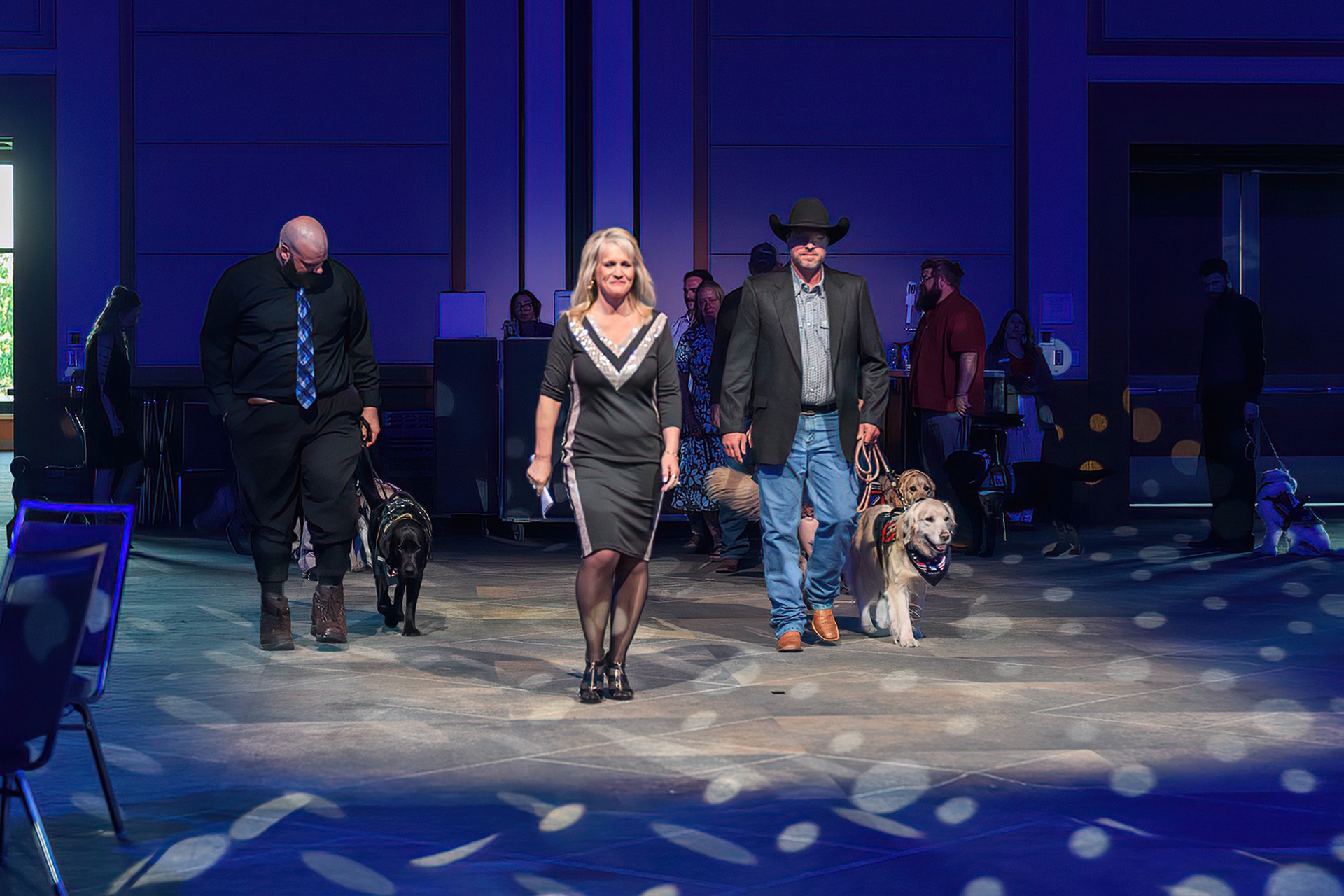 How much does it cost to attend?
Tickets are $250 single, $500 couple, and $2500 for a table of 10. Registration is now open and closes on May 8.
How can I participate if I can't attend?
Although the Northwest Battle Buddies Freedom Gala is guaranteed to be a moving and memorable experience, there are several ways to participate if you are unable to attend personally.
You could:
- Buy a ticket for a veteran
- Donate an item for the live or silent auction
- Make a donation to our program
- Volunteer
What else do I need to know?
Having sufficient resources is the single greatest obstacle to Northwest Battle Buddies' mission to provide professionally trained service dogs to Veterans in need. We depend on the generosity of people like you to help us give back to the men and women who continue to sacrifice for our country. Please consider joining us to celebrate our freedom and the men and women who provided it. Purchase tickets or get involved at our website.