A Veteran's Journey: SUP4NWBB Embarks on adventure to inspire and support fellow Veterans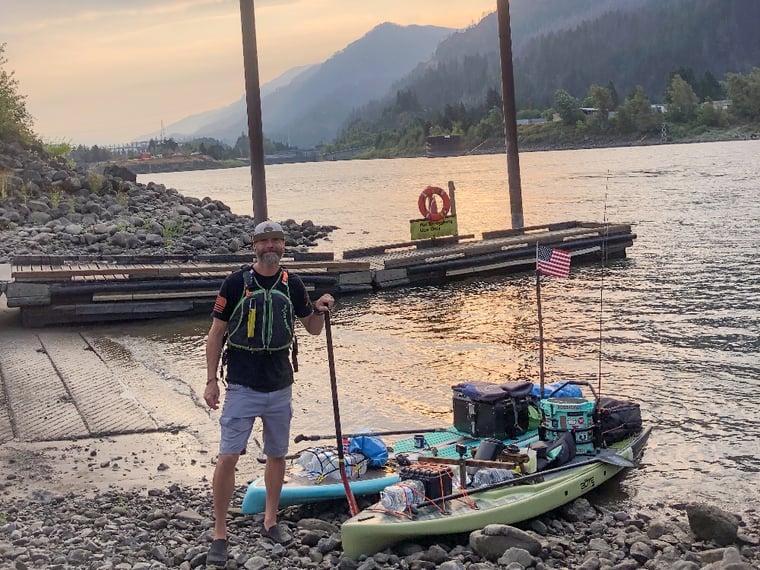 In 2017 Michael Curtis of Washougal, WA launched SUP Northwest to increase awareness about Veterans battling PTSD, Veteran suicide rates and to inspire these Veterans to keep fighting through their challenges to accomplish big goals. His goal is to explore the entire length of the Columbia River from the Canadian Border to the Pacific Ocean, approximately 900-1000 miles on a paddle board. He has broken the route into five legs and completed three of the five to date. His efforts have resulted in raising over $30,000 for Northwest Battle Buddies to carry out their mission of gifting professional trained service dogs to Veterans battling PTSD. As Curtis sets out to complete another leg of his journey, we look back at what has brought him to this point. His experience has truly been inspiring.
Where It All Started
"The whole idea of this adventure started with an evening out for dinner and drinks. Jokingly a friend and I who had just started paddling for fun began tossing around the idea of how far we could go. One thing led to another, and we planned to test this out. On our first attempt, we made it 70 miles toward the coast and learned a ton about what to bring and what not to bring," said Curtis. On completing this initial exploration of the Columbia River, Curtis, an Army Veteran himself, began to formulate a plan to explore the entire river from Canada to the Pacific Ocean. The next year he decided that if he was going to attempt this, he could also do it for a cause. Curtis began searching for a cause, "In researching Veteran organizations to support, I came across Northwest Battle Buddies and determined they were the organization I wanted to represent."
In his first meeting with Northwest Battle Buddies, Michael presented his plan, and they enthusiastically said "Yes! Let's do this!" That summer they set out on the first charity expedition from Umatilla to Portland. The expedition was a success. "I navigated approximately 190 miles of the Columbia River on my paddleboard. During the trek, we ran a live GPS and did some live video streams so supporters could follow along in the journey." Not only did Curtis master the art of packing essentials, but he also raised over $9,000. It was during this expedition that the name SUP4NWBB, Stand Up Paddleboard for Northwest Battle Buddies, emerged and he started planning out the next leg for the following year.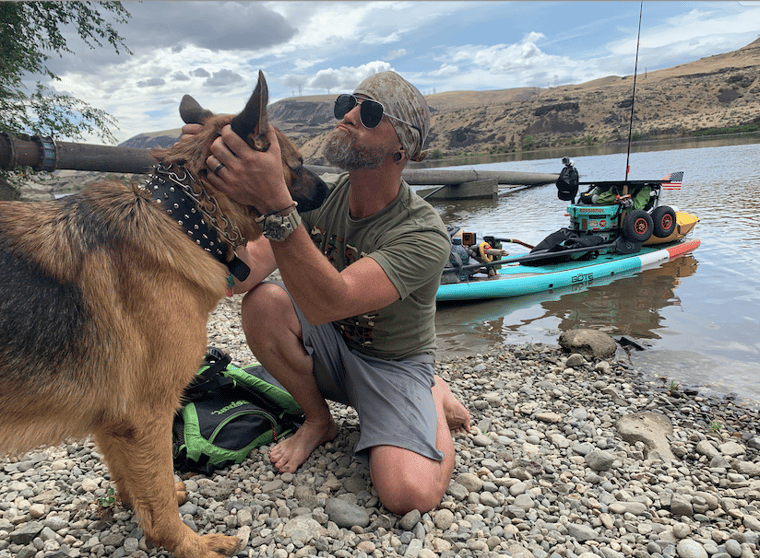 Continuing the Journey
Following the success from Umatilla to Portland, the next leg would take him from Rocky Reach Dam in Wenatchee to Umatilla. Completing this leg in approximately six days, he covered around 198 miles. "With my wife as my support, we navigated around three dams and had a very successful adventure," remembers Curtis. Upon reaching the Tri-Cities, Curtis was met by a television news crew, resulting in coverage of his journey. Again, GPS tracking and public support enabled him to raise nearly $10,000 for Northwest Battle Buddies.
During the pandemic, Curtis took a year off due to a lack of necessary support for his journey. However, this time provided him with ample preparation for the following year. "After extensive planning in 2021, we were set to accomplish the 4th Leg that would have taken us from Fort Spokane to Wenatchee, approximately 180 miles. I decided to attempt the trip despite something not feeling right. I was halted from entering the river at Fort Spokane by the US Forestry Service, due to a 100,000-plus acres wildfire burning in the canyon downriver," Curtis recalled. "With heavy hearts and heavy smoke in the air, we determined that there was no choice but to reroute. We decided that we would move downriver and redo leg 1 for charity." Curtis recalls the memory, "Something still felt off, however, and my body was telling me there's something wrong. Unfortunately, I ignored my body and attempted to launch from Bonneville Dam to still complete a journey. Shortly after launching the wind picked up in the Columbia River Gorge to nearly 25 miles per hour, making for extreme conditions with white caps. The excessive work to keep the board going downriver began wearing on me, and then out of nowhere, I physically lost 90% of the use of my hands and arms. Unbeknownst to me, I had collapsed a disk in my neck and permanently damaged the nerves used to control my hands. The mission turned into a nightmare, being stranded on the river for nearly 4 hours. I was eventually able to get extracted the next day and faced serious medical problems. I was devastated and didn't know if I would ever get the full use of my hands back."
Despite these setbacks, Curtis continued to raise close to another $10,000 and underwent multiple surgeries to recover. "In the midst of this, I also went through some incredibly difficult personal issues. Though I was broken down, I found God, and he lifted me back up. It has now been over a year since the last surgery, and I am inspired to never give up," affirms Curtis. It is with great satisfaction and 18 months of physical therapy and recovery that he is planning to continue where he left off on his last halted journey in 2023.
Expedition 2023
This year's expedition to support our Veterans and NWBB will be in memory of Curtis's father and sister, who were two of his biggest supporters. In August 2023, they will be doing a shortened version of the last planned route. This new route will continue the mission to explore the entire Columbia River from Canada to the Ocean and take him from Grand Coulee Dam to Rocky Reach Dam in Wenatchee. The route is approximately 120 miles. "I will never be at 100% again with my injuries but as a soldier we adapt, improvise, and overcome all obstacles. We can achieve all things through the power of Christ who strengthens us. Physical limitations or not, where there is a will, there is a way," exclaimed Curtis.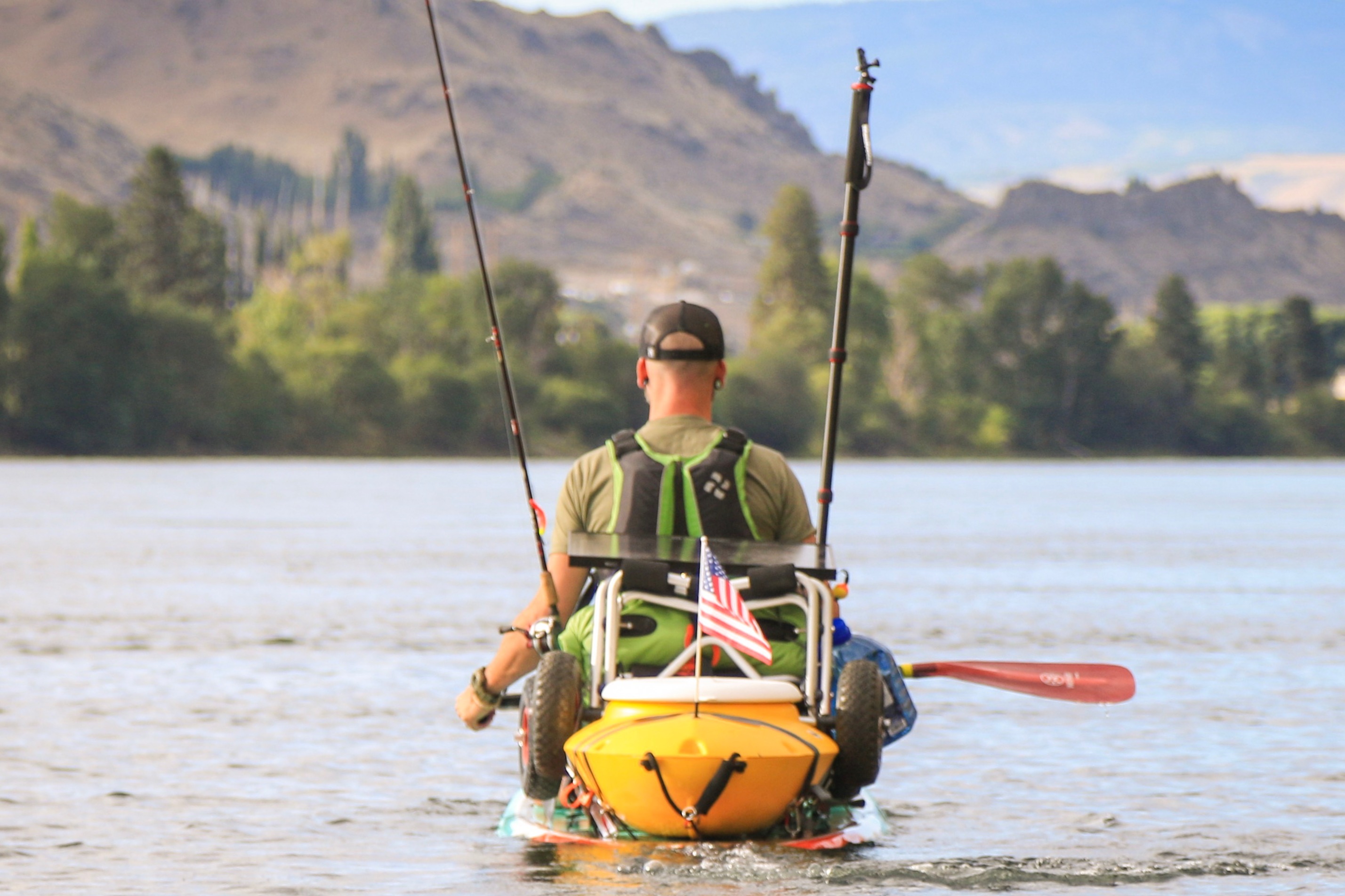 If you are interested in supporting SUP4NWBB as they paddle their way through the Pacific Northwest, you can donate here. Or, to follow along with the journey on social media, follow Northwest Battle Buddies on Facebook or Instagram for updates.